---
In the vibrant city of Buenos Aires a world of accommodation options awaits you. Whether you're a budget traveler, a luxury seeker, or someone in between, Buenos Aires offers a diverse range of accommodations to suit every taste and budget. Let's explore the different neighborhoods, discuss the cost of accommodation, provide recommendations, offer tips for finding the perfect place to stay, and highlight the unique aspects of securing accommodation in Buenos Aires.
---
---
Neighborhoods to Consider:
Buenos Aires is a city of distinct neighborhoods, each with its own charm and character. When choosing accommodation, consider the following neighborhoods:
---
---
Palermo:
Known for its trendy atmosphere, Palermo offers a mix of boutique hotels, stylish apartments, and cozy bed and breakfasts. It's a great choice for those seeking a vibrant nightlife, excellent dining options, and proximity to green spaces like Bosques de Palermo.
---
Hotels in Palermo
Home Hotel
A chic and modern boutique hotel located in Palermo Hollywood, offering comfortable rooms, a lush green garden, and an in-house spa. The hotel is close to many bars, restaurants, and supermarkets.
Legado Mitico
A charming boutique hotel located in Palermo Soho, offering stylish and comfortable rooms inspired by different mythical characters from Argentine culture. The hotel is close to many trendy shops, cafes, and restaurants.
Fierro Hotel
A modern and sleek hotel located in Palermo Hollywood, offering comfortable rooms, a rooftop pool, and a relaxing spa. The hotel is close to many bars, restaurants, and shops.
Boutique Suites Palermo
A budget-friendly apart hotel located in Palermo Hollywood, offering stylish and large studio apartments at a budget-friendly price point. The hotel is close to many bars, restaurants, and shops.
---
---
Recoleta:
If you prefer a more upscale experience, Recoleta is the neighborhood for you. This elegant area is home to luxury hotels, upscale apartments, and boutique guesthouses. Recoleta is renowned for its beautiful architecture, the famous Recoleta Cemetery, and cultural attractions like the MALBA museum.
---
Hotels in Recoleta
Alvear Palace Hotel
The Alvear Palace is a 5-star hotel located in the elegant La Recoleta neighborhood, surrounded by restaurants and shops and just 5 minutes from the financial district. Smoking is not allowed at this property with free WiFi.
The property has magnificent common areas with a French touch and elegant rooms and suites decorated in a modern French style. The newly renovated upper floors include 15 spacious suites with contemporary design. In addition, the rooms on the 10th and 11th floors, the Alvear suite and the suites of higher categories have an exclusive team of butlers.
Palacio Duhau - Park Hyatt Buenos Aires
A luxurious hotel located in a historic palace in Recoleta, offering spacious and elegant rooms, a beautiful garden, and a gourmet restaurant. The hotel is close to many museums, galleries, and shops.
Set in a luxurious palace in the center of the chic Recoleta district, Palacio Duhau - Park Hyatt Buenos Aires features a spa and fitness center, as well as 2 restaurants and a bar. The hotel offers rooms with marble bathrooms, just 3 km from central Buenos Aires.
The rooms at Palacio Duhau are decorated in Belle Epoque style with contemporary paintings. They are equipped with air conditioning, heating and plasma TV. Each offers panoramic views, and some have a fireplace and spa bath.
Melia Recoleta Plaza
Nestled in the exclusive Recoleta neighborhood, Melia Recoleta Plaza Hotel provides an elegant escape with a hot tub, spa amenities, and opulent interior design. The hotel boasts an on-site beauty salon and upscale dining choices.
As you step into Melia Recoleta Plaza Hotel, you are welcomed by refined marble floors, plush rugs, and adorned pillars, embodying the essence of a 5-star establishment. The air-conditioned rooms feature hardwood flooring, floor-to-ceiling curtains, sophisticated wooden furnishings, a Smart 55-inch TV, high-speed WiFi, and a secure box for your laptop.
Callao Suites Recoleta
Callao Suites offers comfortable suites with free Wi-Fi in Buenos Aires, only 50 metres from Santa Fe Avenue. Recoleta Cemetery and the Fine Arts Museum are a 10-minute drive away. A continental breakfast is offered in a coffee shop 80 metres from the hotel.
A more budget-friendly apart hotel located in Recoleta, offering comfortable rooms with a kitchenette, perfect for longer stays.
---
---
San Telmo:
For a bohemian and artistic vibe, San Telmo is the perfect choice. This historic neighborhood offers charming guesthouses, budget-friendly hostels, and unique Airbnb options. San Telmo is famous for its cobblestone streets, antique markets, tango bars, and the Sunday market on Plaza Dorrego.
---
Hotels in San Telmo
---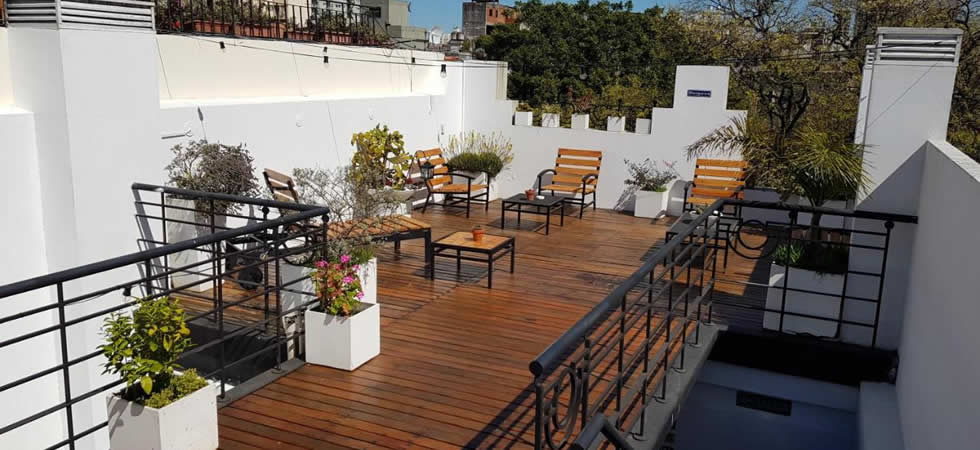 Telmho Hotel Boutique
Telmho Hotel Boutique is located in the heart of the traditional San Telmo district, just a few steps from Dorrego Square, where a popular flea market is held every weekend.
The rooms are stylishly furnished and equipped with modern facilities, such as a flat-screen TV, free internet and a cordless telephone. The bathrooms are equipped with a hairdryer and luxurious amenities. Nice garden.
Anselmo Buenos Aires
Anselmo Buenos Aires, Curio Collection by Hilton offers comfortable accommodations in Buenos Aires. The hotel offers impeccable service and free WiFi in all areas. Anselmo Buenos Aires is 500 meters from 9 de Julio Avenue and 1 km from Casa Rosada. All rooms include a flat-screen TV and a private bathroom. Each room includes a daily continental breakfast.
Hotel guests can enjoy drinks and snacks in a trendy and historic atmosphere. Anselmo Buenos Aires has a shared lounge serving meals with fresh local produce. The on-site Café Anselmo has a modern interior and offers Argentinian and healthy meals.
---
Hotels in Microcentro
Esplendor By Wyndham
Esplendor by Wyndham Buenos Aires is located in a classic monumental building from 1880 with a neo-Renaissance style facade. It is located in the center of Buenos Aires, next to Galerias Pacifico shopping center. It has a gourmet restaurant, an art gallery and rooms with contemporary décor. WiFi is free. Florida Pedestrian Street is 350 feet away and San Martin Square is 1,300 feet from the property.
The Esplendor by Wyndham Buenos Aires is a 4-star hotel featuring local contemporary artworks in a courtyard. All rooms are stylishly furnished. Amenities include a cable TV, bathtub and minibar. Some rooms have a hydromassage bath.
---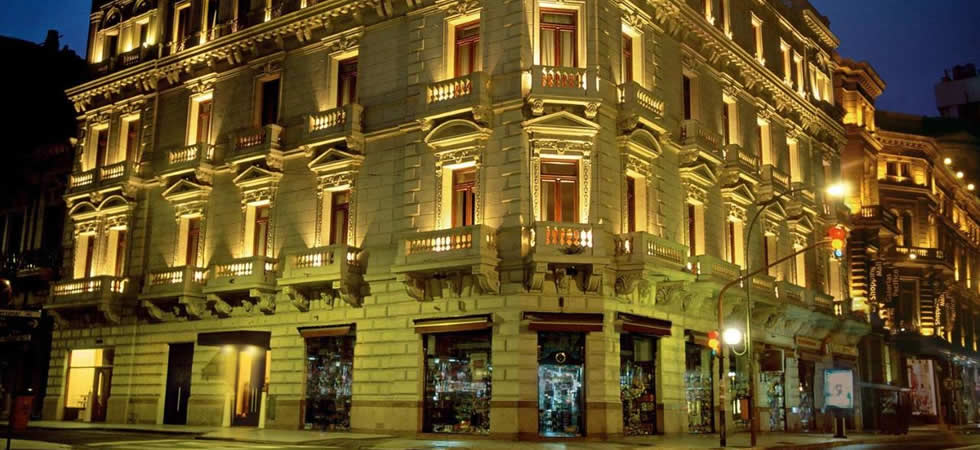 Hotel Pulitzer Buenos Aires
A modern and stylish hotel located in Microcentro, offering comfortable rooms, a rooftop terrace, and a fitness center.
The rooms of the Pulitzer Hotel are decorated in sober colors and equipped with comfortable armchairs upholstered in leather and natural fabrics. All rooms also have a minibar and large windows.
A buffet breakfast with fresh fruit juices is served daily. You can enjoy drinks and cocktails in the bar. In the charming lounge with a glass ceiling you can relax with a book from the library. Galerias Pacífico Shopping Center is 400 meters away, while Puerto Madero is 700 meters from the hotel.
---
---
Puerto Madero:
If you prefer a modern and upscale setting, Puerto Madero won't disappoint. This waterfront neighborhood boasts luxurious hotels with stunning views of the river, sleek apartments, and high-end serviced apartments. It's an excellent choice for those seeking a cosmopolitan ambiance and fine dining experiences.
---
Hotels in Puerto Madero
Hotel Madero Buenos Aires
The exclusively furnished rooms at Hotel Madero Buenos Aires are bright and spacious. They are all equipped with a private balcony, plasma TV and minibar. Some rooms also offer access to Le Club M, a business center with its own secretary service. Free WiFi is available to all guests.
There is a buffet breakfast including pastries, cereal and fruit. The Rëd Resto & Lounge features an exclusive wine cellar and a special menu prepared by Chef Alejandro Bontempo. The White Bar offers cocktails, billiards and a wide range of meals, which can be enjoyed on the terrace. Madero Spa is a relaxing rooftop setting, with panoramic views of the city. Guests can enjoy a sauna, hot tub, fitness center and indoor heated pool.
Faena Hotel Buenos Aires
Located in the chic Puerto Madero district, Faena Hotel Buenos Aires offers luxurious accommodations. This 5-star design hotel is housed in an impressive building with spa facilities and a swimming pool. The stylishly decorated rooms at Faena Hotel feature automatic velvet curtains and blinds. All rooms are equipped with a home theater system and a minibar.
The bistro Sur is decorated in white and gold and serves international dishes. There is also a cellar with the largest collection of Argentinian wines. You can relax and read a book while enjoying a cup of coffee in the library. Spa facilities include a sauna, hammam and hydromassage. A state-of-the-art fitness center is also available.
Hilton Buenos Aires
Located in the elegant Puerto Madero district, Hilton Buenos Aires offers luxurious accommodations with city and river views. The hotel features spa facilities, a fitness centre, a rooftop swimming pool and an iconic and impressive glass atrium where the lobby is located.
When staying at the Hilton Buenos Aires, you can enjoy comfortable and spacious fully carpeted rooms. They have classic décor and modern facilities. The executive rooms offer exclusive access to the Executive Lounge.
---
---
Cost of Accommodation in Buenos Aires
The cost of accommodation in Buenos Aires can vary depending on the neighborhood, the type of accommodation, and the time of year. Overall, Buenos Aires offers options to suit different budgets. Budget travelers can find affordable hostels and guesthouses in various neighborhoods. Mid-range options include comfortable hotels, apartments, and Airbnb rentals. Luxury seekers can indulge in upscale hotels and serviced apartments that provide top-notch amenities and personalized services. Prices tend to be higher during the peak tourist season (November to March) and major events, so booking in advance are recommended.
Recommendations and Tips to find accommodation in Buenos Aires
---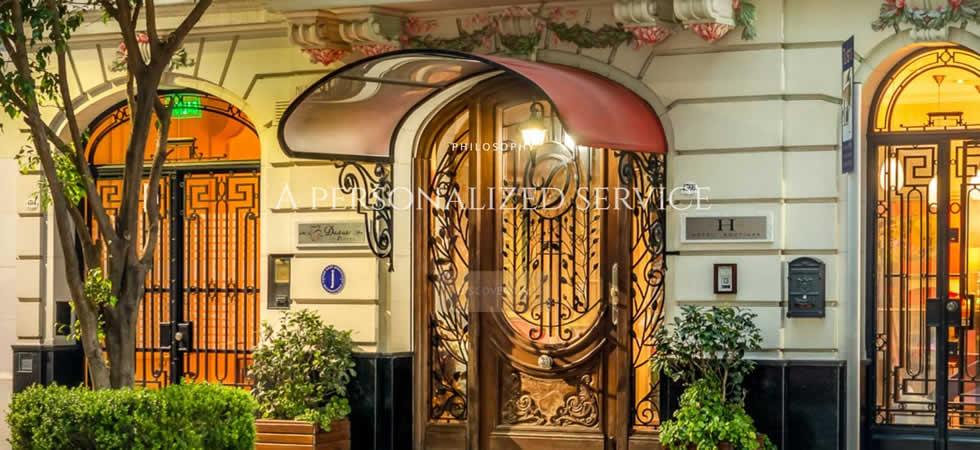 Research and compare prices: Utilize online booking platforms to compare prices, read reviews, and find the best deals. It's wise to book directly with hotels or trusted websites to ensure a smooth experience.
Consider location and transportation: Choose accommodation near public transportation options for easy access to attractions. Consider your itinerary and select a neighborhood that aligns with your preferences.
Safety: Buenos Aires is generally safe, but it's advisable to stay in well-populated areas, especially if you're a solo traveler. Read reviews and choose accommodations with good security measures.
Check amenities: Look for accommodations that offer the amenities you desire, such as Wi-Fi, breakfast, air conditioning, or a swimming pool.
---
---
Unique Accommodation Experiences
In addition to traditional hotels and hostels, Buenos Aires offers unique accommodation experiences. For instance, you can consider staying in an estancia (ranch) in the countryside surrounding the city, where you can immerse yourself in the gaucho culture. Another option is to book a stay in a boutique hotel or guesthouse housed in a beautifully restored historic building, offering a glimpse into Buenos Aires' architectural heritage.
Finding accommodation in Buenos Aires is an exciting endeavor that allows you to tailor your stay to your preferences and budget. By considering the neighborhoods, understanding the cost of accommodation, and following the recommendations and tips provided, you'll be well-equipped to find the perfect place to call home during your visit to Buenos Aires.
Remember, Buenos Aires is a city that offers something for everyone. Whether you're seeking a lively atmosphere, cultural immersion, or a peaceful retreat, there is an accommodation option that will suit your needs. Take the time to explore the different neighborhoods, each with its own distinct vibe and attractions, and choose the one that aligns with your interests and preferences.
Additionally, don't be afraid to venture beyond traditional hotels and consider alternative accommodation options. Airbnb rentals provide a chance to experience Buenos Aires like a local, staying in unique apartments with personalized touches. Similarly, boutique hotels and guesthouses offer a more intimate and personalized experience, often housed in historic buildings that exude charm and character.
When planning your trip, it's a good idea to book your accommodation in Buenos Aires in advance, especially during the peak tourist season or if you have specific preferences. This ensures that you secure your preferred choice and potentially benefit from early booking discounts. Remember to read reviews, check the amenities offered, and consider the location in relation to your planned activities and attractions.
Lastly, embrace the adventure of finding the perfect accommodation in Buenos Aires. Whether you're captivated by the vibrant energy of Palermo, enchanted by the elegance of Recoleta, or charmed by the bohemian spirit of San Telmo, each neighborhood has its own allure and unique experiences to offer. Start your journey to Buenos Aires by immersing yourself in the variety of accommodation options available. Find the neighborhood that speaks to you, consider your budget and preferences, and get ready to create unforgettable memories in the captivating city of Buenos Aires.
---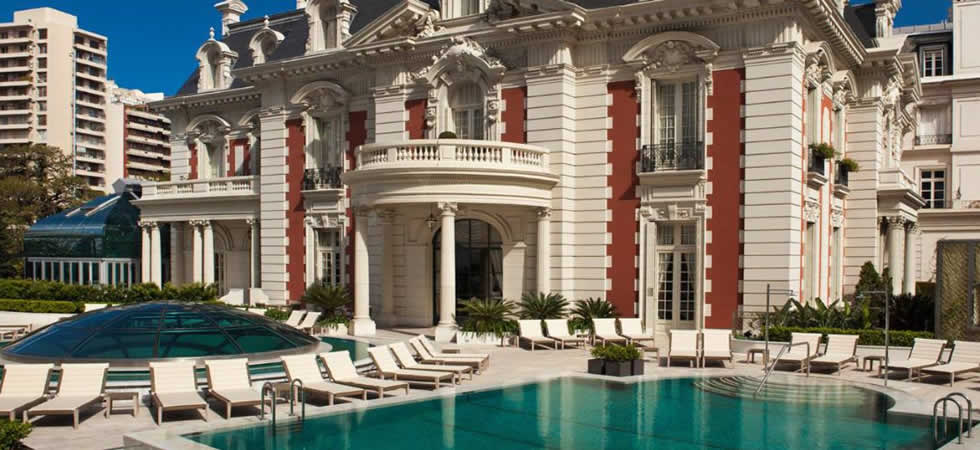 In conclusion, Buenos Aires offers a wide range of unique and nice accommodation options for all budgets. Whether you're looking for a budget-friendly hostel in Palermo or a luxurious hotel in Recoleta, there are plenty of unique and nice accommodation options to choose from in Buenos Aires. These hotels offer comfortable rooms, modern amenities, and a range of activities and facilities to make your stay enjoyable.