---
---
Tourist attractions in Buenos Aires
Buenos Aires is a city full of culture and history. If you're looking for a place to visit, here are 15 tourist attractions in Buenos Aires you can't miss, from la Casa Rosada to the Botanical Gardens in Palermo, from the bohemian flea market in San Telmo to the famous cemetery in Recoleta and modern Puerto Madera. Here are the most iconic tourist attractions in Buenos Aires (apart from the museums in Buenos Aires).
---
---
La Casa Rosada
Located in the heart of vibrant Buenos Aires, La Casa Rosada is a magnificent historic building with a rich history. It was built in 1580 and is the official residence of the President of Argentina. Visitors can explore the majestic interiors and learn about the history of this iconic building. La Casa Rosada is sure to impress with its breathtaking architecture, vibrant colors, and captivating artwork. You can take a guided tour at La Casa Rosada to learn about this impressive structure's fascinating past or stroll around the beautiful grounds. Plenty of activities are available such as live music performances, art exhibitions, and cultural events.
---
---
---
The Palacio Barolo
Built in 1923, the architectural beauty of Palacio Barolo, a magnificent building that stands as a beacon of Buenos Aires' grandeur, is a sight to behold. The building was designed by Italian architect Mario Palanti for the businessman Luigi Barolo to tell the story of Dante's most famous poem, The Divine Comedy. Its neo-Gothic and neo-Romanesque style is truly stunning, and the building is one of the most recognizable landmarks in South America. Stretching 14 stories high, the Palacio Barolo houses a variety of businesses and professional services, including a restaurant and bar. A lighthouse shines over the city at the top of the building, adding to its grandeur. Tours of the building take you up to the lighthouse and across the top of the building. Admire the stunning views from atop this tower, with sights of Buenos Aires' skyline, the Rio de la Plata, and other buildings in the area.
---
---
La Recoleta Cemetery
La Recoleta Cemetery is one of the most impressive and inspiring places in Buenos Aires. Located in the heart of the city, in the Recoleta neighborhood, it is a beautiful and tranquil oasis of calm. This place is home to some of the most famous people in Argentina, such as Eva Perón. In addition, it is a significant part of the country's history. La Recoleta Cemetery is breathtaking, from the elaborate mausoleums to the winding cobblestone paths. As you explore the cemetery, you will feel like you are walking through a gallery of art and history. The majestic monuments, sculptures, and crypts are all intricately designed and tell a story about each person buried there. During your visit, you can admire each burial site's stunning architecture and intricate detailing. You can also take a guided tour to learn more about the cemetery and its famous inhabitants. La Recoleta Cemetery is an unforgettable experience that has captivated locals and visitors for centuries!
---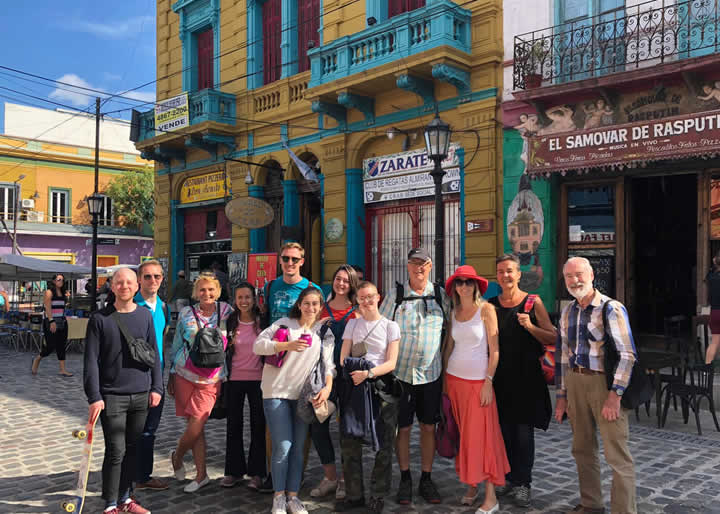 ---
---
The Plaza de Mayo
The Plaza de Mayo is a historical and iconic landmark in Buenos Aires, Argentina. It is a place of immense significance to the people of Argentina, as it has been the backdrop to many significant events in the country's history. Located in the middle of the city, the plaza is a testament to the beauty and vibrancy of Buenos Aires. This square has seen everything from political demonstrations by "las madres de la Plaza de Mayo" to cultural gatherings. It has been integral to the Argentine people's fight for freedom, democracy, and human rights. The bright colors, lush gardens, and beautiful architecture make it a must-visit destination. The plaza is incredibly stunning at night when colorful lights illuminate the area. Whether you're visiting for a political rally or to take in the view, Plaza de Mayo will surely leave you with memories that will last forever. So explore Argentina's most beloved landmark and experience its rich history first-hand!
---
---
San Telmo: Plaza Dorrego and the Flea Market
Experience a unique shopping adventure in Buenos Aires at the San Telmo Flea Market! Located in the heart of Buenos Aires, near Plaza Dorrego, this flea market is packed with unique items from antiques and vintage clothing to art, books, and handmade jewelry. On the weekends, the flea market buzzes with energy while vendors showcase their goods and shoppers haggle for the best prices. Join in on the fun and explore the vibrant atmosphere of this bustling market! In addition, you can also enjoy delicious food from food trucks and cafes scattered throughout the area.
Plaza Dorrego is a historic public square in the heart of the San Telmo neighborhood in Buenos Aires, Argentina. It is one of the city's oldest squares, famous for its antique markets, tango performances, and lively atmosphere. Beautiful old buildings surround the square with French and Italian architectural influences. It is a popular spot for locals and tourists to gather and relax. Plenty of outdoor cafes and restaurants allow you to sit and enjoy a drink or a meal while watching the world go by. On Sundays, when the square comes alive with an antique market that attracts collectors and bargain hunters from all over the city, street performers and tango dancers also put on free shows for the crowds.
Plaza Dorrego is also home to some historic landmarks, including the San Pedro Telmo Church, which dates back to the 1700s, and the Casa Minima, a tiny, narrow house that is said to be the smallest in Buenos Aires.
---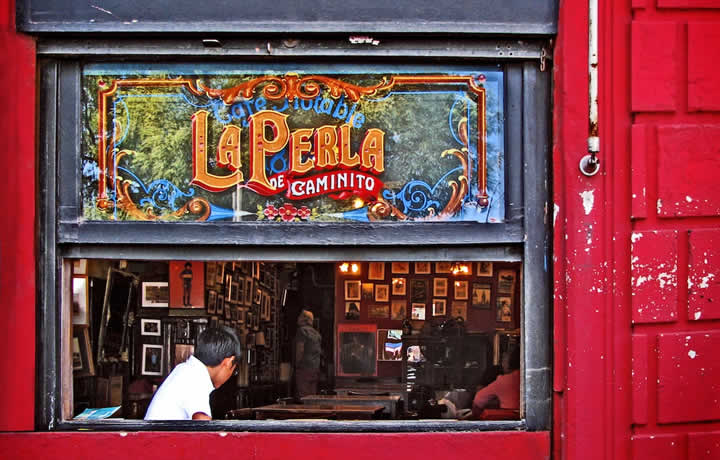 ---
---
Puerto Madero
Puerto Madero is one of the most beautiful and desirable destinations in Buenos Aires. With its stunning waterfront, the unique Puente de la Mujer bridge - designed by the Spanish architect and structural engineer Santiago Calatrava-, and incredible views, it's no surprise that so many people flock here. Whether you're looking to relax or explore, Puerto Madero has something for everyone. From the harbor to the historic buildings, Puerto Madero has great sites you won't want to miss. The area is also filled with excellent restaurants and bars, making it a great spot for a night out.
---
---
The Avenida 9 de Julio
The Avenida 9 de Julio is a beautiful street in the heart of Buenos Aires, Argentina. It is one of the city's most iconic thoroughfares and is the world's widest avenue! It is a fantastic site with its majestic architecture and vibrant nightlife. Stretching 4.5 kilometers through the city, Avenida 9 de Julio is lined with stately colonial buildings and luscious green parks, making it a popular destination for tourists and locals alike. The avenue is also home to some of Buenos Aires' most famous attractions: the Obelisco de Buenos Aires.
---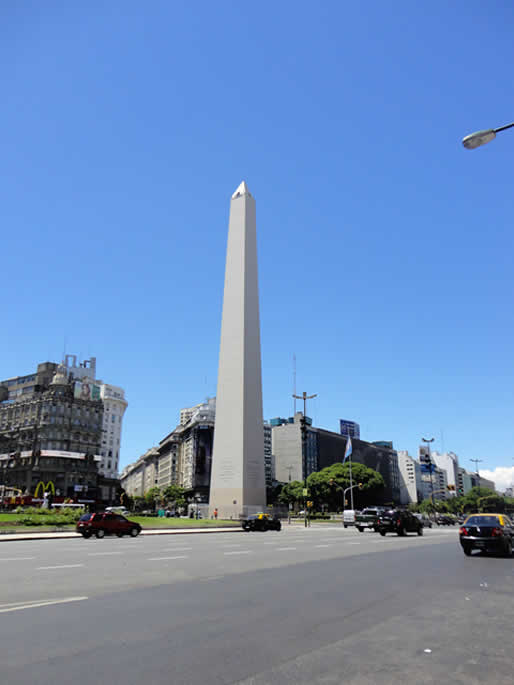 ---
---
The Obelisco de Buenos Aires
The Obelisco de Buenos Aires is an iconic landmark that is known and beloved around the world. Standing tall at 67.5 meters, it is a beacon of history and culture in the vibrant city of Buenos Aires. The Obelisco stands as a testament to the city's rich heritage and passionate people. Built in 1936, the Obelisco was designed by architect Alberto Prebisch, who intended to create a lasting symbol of Argentina's independence. Today, the Obelisco stands proudly in the heart of the city, where it is enjoyed by locals and tourists alike. People come from all over to take in the stunning views of the city from the top of the Obelisco. It is a favorite spot for taking pictures.
---
---
The Metropolitan Cathedral of Buenos Aires
Discover a marvel of architecture, history, and culture in Buenos Aires, Argentina: The Metropolitan Cathedral of Buenos Aires! This stunning building is a must-see for any traveler looking to explore the majestic beauty of South America. With its baroque-style architecture, the cathedral stands out as one of the most impressive landmarks in the city. From the breathtaking grandeur of its exterior to the intricate details of its interior, you won't be able to take your eyes off it! The Metropolitan Cathedral was built in the late 1700s and has undergone several renovations and expansions. Inside, you'll find an abundance of religious artifacts, including several altars and a 17th-century painting. On the outside, marvel at the ornate facade and spires, that serve as a reminder of its long and storied history.
Read more about Churches in Buenos Aires
---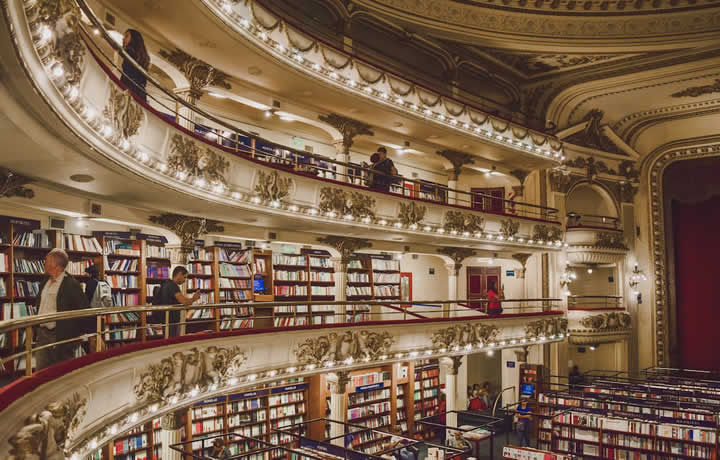 ---
---
La Boca y el Caminito
If you're looking for a fantastic experience in Buenos Aires, then the iconic La Boca and El Caminito is the place for you! This vibrant and colorful street –also called a steet museum- is full of life, bursting with energy and culture. You can watch tango dancers perform in the square and sample local Argentine cuisine in the restaurants. La Boca is truly a treasure trove of experiences. From its captivating artwork to its lively bars and pubs, there's something for everyone here.
---
---
Parque 3 de Febrero
Parque 3 de Febrero in Palermo is a magical place to explore! Located in the heart of Buenos Aires, this stunning park is full of lush greenery, winding pathways, and plenty of activities to keep you entertained for hours. Whether you're looking for a relaxing day outdoors or an adventurous excursion, this park in Buenos Aires has something for everyone! From the tranquil ponds and streams to the vibrant flower gardens, you'll find yourself in awe of the beauty that lingers in this great public space. And with plenty of benches and tables scattered throughout the park, it's perfect for picnics and gatherings with friends and family. Plus, you can take a stroll around the lake or enjoy the views from one of its many bridges. When on a sightseeing trip in Buenos Aires, don't miss out on el Parque de Febrero en Palermo.
---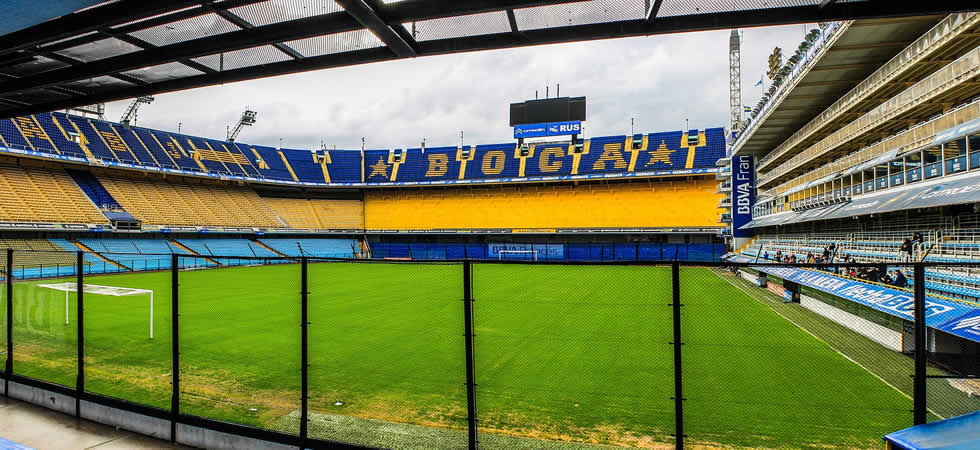 ---
---
Botanical Gardens
Are you looking for a unique outdoor experience in Buenos Aires? Look no further than the Botanical Gardens! The Buenos Aires Botanical Garden, also known as the Jardín Botánico Carlos Thays, is a botanical garden in the Palermo neighborhood of Buenos Aires, Argentina. The famous French architect and landscape designer Carlos Thays designed and opened the park in 1898.
The Buenos Aires Botanical Garden covers over 69 acres and features over 5,500 species of plants, including exotic and native species from Argentina and elsewhere. The garden is divided into various sections, including a Roman garden, a French garden, an Oriental garden, a Spanish Patio, and an aquatic garden. The garden is also home to various greenhouses, including a tropical greenhouse, a subtropical greenhouse, and an economic plants greenhouse, which displays valuable plants like coffee, cocoa, and tea.
The Buenos Aires Botanical Garden is open every day of the year, and admission is free. The garden also offers guided tours and educational programs for visitors of all ages. It's a great place to enjoy nature and take a walk while learning about plants and their importance in our ecosystem. So take a break from the hustle and bustle of the city, enjoy the peaceful atmosphere, explore this stunning oasis, and discover its endless beauty!
---
---
Teatro Colon
The Teatro Colon in Buenos Aires is one of South America's most beautiful and enthralling venues! This incredible opera house was built at the start of the 20th century and is a testament to the city's artistic spirit. It is the home of the National Symphony Orchestra of Argentina, and its many performances bring culture and entertainment to both locals and visitors alike. The Teatro Colon offers various shows and events, from classical ballets to contemporary operas. With its grand architecture, stunning interior design, and exceptional acoustics, it is no wonder that it has been named one of the top 10 opera houses in the world. Whether you are a fan of the performing arts or just looking for a unique experience, visiting the Teatro Colon is sure to be an exciting and unforgettable experience.
---
---
El Ateneo Gran Splendid
El Ateneo Grand Splendid is a must-see destination for any Buenos Aires, Argentina traveler. Step inside this historic building, and you'll be transported back to the early 20th century. El Ateneo Grand Splendid is a one-of-a-kind bookstore and theater, offering an unforgettable experience for all who visit. You'll be mesmerized by the stunning architecture, with its ornate ceiling, grand staircase, and vaulted balconies. As you wander through the aisles of books, you'll be surrounded by the rich history of this iconic building.
---
---
Museums in Buenos Aires
Buenos Aires is a city boasting an impressive cultural heritage, a vibrant arts scene, and a long history of artistic and intellectual excellence. One of the most striking features of the city's cultural landscape is its numerous world-class museums, each offering a unique insight into Argentina's history, art, and culture and the wider world. From modern art and design to the city's rich colonial history, Buenos Aires' museums are a must-visit for anyone interested in exploring the country's diverse cultural heritage. Whether you're a seasoned art enthusiast or just looking for an engaging way to spend an afternoon, Buenos Aires' museums offer a wealth of treasures to discover.
Read more about Museums in Buenos Aires.
---
---
La Bombonera
La Bombonera, officially known as Estadio Alberto J. Armando, is one of the most iconic and revered football stadiums in Buenos Aires, Argentina. It is the home stadium of Boca Juniors, one of the country's most popular and successful football clubs. La Bombonera holds a special place in the hearts of Boca Juniors fans and is a must-visit destination for football enthusiasts.
Located in the neighborhood of La Boca, La Bombonera stands as a symbol of passion, history, and intense rivalries. The stadium is known for its unique architecture, with one of its stands famously named "La Doce" (The 12th), about the emotional support of the fans.
To visit La Bombonera, you can take a guided tour that provides a comprehensive experience of the stadium and its surroundings. The tour takes you through the iconic stands, the team's dressing room, and the museum, where you can explore the rich history of Boca Juniors and witness their numerous achievements. As you walk through the stadium, you'll feel the electric atmosphere that has fueled countless legendary matches.
Getting to La Bombonera is relatively easy. If you're staying in central Buenos Aires, you can take a taxi or public transportation. The nearest subway station is "Estadio Boca Juniors" on Line E, just a short walk from the stadium. Buses also offer convenient access to the area.
It's important to note that match days at La Bombonera are particularly intense and requires careful planning. If you're interested in attending a Boca Juniors game, it's recommended to check the team's schedule in advance and purchase tickets early. The atmosphere during matches is electric, with passionate fans creating an unforgettable experience. However, following safety guidelines and being aware of your surroundings is crucial, as football matches can be crowded and emotionally charged.
La Bombonera is not just a stadium but a symbol of the deep-rooted football culture permeating Buenos Aires. Visiting this legendary venue immerses you in the passion, history, and traditions that make Argentine football so captivating. It's an experience that will leave a lasting impression and provide a unique insight into the heart and soul of the game.
Read more about village to visit in the nearby surroundings of Buenos Aires.