---
---
A Journey Through the City's Coffee Culture
Welcome to the vibrant city of Buenos Aires, where coffee is not just a beverage but a way of life. This cosmopolitan capital boasts a rich café culture that has been a cornerstone of Argentinean social life for generations. In this blog post, we'll explore some of the best cafes in Buenos Aires, each offering a unique experience and a taste of the city's rich cultural heritage. From iconic historical establishments to trendy modern spaces, prepare to indulge in the aromas, flavors, and ambiance that make Buenos Aires a coffee lover's paradise.
---
---
Café Tortoni
No exploration of Buenos Aires' cafe scene is complete without a visit to Café Tortoni. Established in 1858, this iconic cafe is a living testament to the city's cultural legacy. Step into its grand interior adorned with elegant chandeliers, vintage decor, and marble tables, and you'll feel transported back in time.
Why Go: Café Tortoni's rich history, artistic ambiance, and live tango performances create an enchanting atmosphere. Sip on a traditional cortado (espresso with a small amount of milk) while admiring the venue's stunning architecture. Indulge in their signature churros with dulce de leche, a delectable treat that perfectly complements the coffee.
---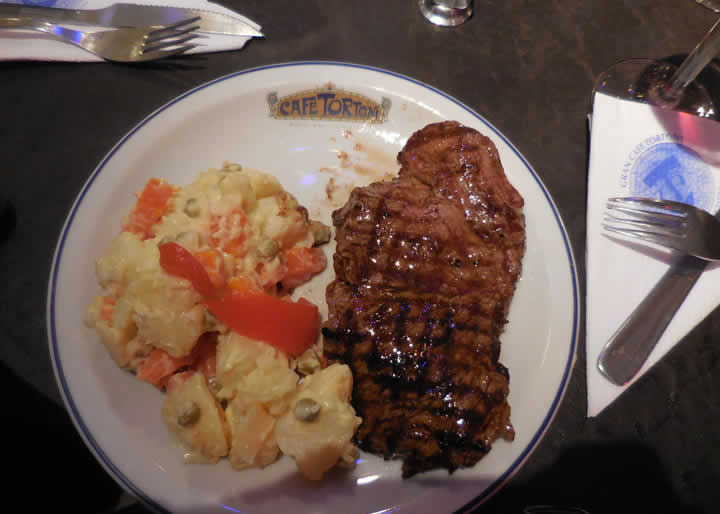 ---
---
Café del Árbol
Description: At the Plaza Dorrego you´ll find many cafe's were you can sit and watch tango performances. But if you´re thirsty and feel like a big glass of fresh fruitjuice during the show, I would recommend Café del Árbol. They serve juices from all sorts of fruit mixed with crushed ice, milk or orangejuice. And the size of the glass allows you to take your time and enjoy the show for quite a while.
Address: Humberto Primero 424 San Telmo, Buenos Aires, Argentina
---
---
Café Las Violetas
Las Violetas is a true gem located in the Almagro neighborhood. This iconic cafe, established in 1884, exudes elegance and charm with its stunning Art Nouveau architecture, stained glass windows, and intricate woodwork.
Why Go: Immerse yourself in the old-world charm of Las Violetas while savoring their exquisite pastries and artisanal coffees. From medialunas (Argentinean croissants) to alfajores (traditional cookies filled with dulce de leche), their menu offers a delightful range of sweet treats. Don't miss the chance to try their famous submarino, a glass of steamed milk served with a bar of chocolate to melt into it.
---
---
Café La Biela
Nestled in the picturesque Recoleta neighborhood, Café La Biela has become a meeting point for intellectuals, artists, and locals seeking a tranquil respite. Its outdoor terrace, adorned with umbrellas and surrounded by lush greenery, offers the perfect spot to relax and people-watch.
Why Go: The allure of Café La Biela lies in its historical significance and the sense of timelessness it evokes. Enjoy a leisurely coffee or a refreshing mate (traditional Argentinean herbal tea) while admiring the vintage cars parked nearby. Immerse yourself in the cafe's rich literary history, as renowned writers like Jorge Luis Borges once frequented this iconic establishment.
---
---
Oui Oui
For a more contemporary cafe experience, head to Oui Oui in the Palermo neighborhood. This trendy spot combines modern aesthetics with a cozy atmosphere, making it a popular destination for young locals and expats.
Why Go: Oui Oui offers a refreshing twist on the traditional cafe scene. With its bright, airy interior and eclectic decor, this charming cafe invites you to enjoy a delicious brunch accompanied by a perfectly brewed cup of specialty coffee. Try their mouthwatering pancakes, avocado toast, or homemade granola while savoring the laid-back ambiance.
---
---
El Federal
Located in the heart of San Telmo, El Federal has preserved its vintage charm since its establishment in 1864. With its wooden bar, antique mirrors, and rustic decor, this historic cafe captures the essence of old Buenos Aires.
Why Go: El Federal is a treasure trove for history buffs and coffee lovers alike. Step inside and be transported to a bygone era. Indulge in their traditional cortado or try the café con leche (coffee with milk) accompanied by a slice of homemade cake. Don't forget to explore the adjoining antiques store, where you can browse unique vintage items and take a piece of Argentinean history home with you.
---
---
Café Retiro
Situated near the Retiro train station, Café Retiro is a charming, family-owned cafe that exudes warmth and nostalgia. Its vintage decor, including antique coffee grinders and framed photographs, creates an inviting atmosphere.
Why Go: Café Retiro is known for its exceptional quality coffee sourced from different regions of Argentina. Indulge in their expertly crafted brews while enjoying the cozy ambiance. Pair your coffee with a traditional medialuna or their signature tostado mixto (toasted ham and cheese sandwich).
---
---
Lab Tostadores de Café
Lab Tostadores de Café is a specialty coffee shop tucked away in the Palermo neighborhood. With its minimalist design and focus on quality, it has become a haven for coffee enthusiasts seeking unique flavors.
Why Go: This coffee laboratory offers a meticulous approach to coffee production, sourcing beans from various origins and roasting them in-house. Immerse yourself in the world of specialty coffee as you savor pour-over brews, espresso-based drinks, or their popular cold brew. Don't miss the chance to participate in their coffee tasting workshops for a deeper understanding of the craft.
---
---
Café Crespin
Nestled in the picturesque neighborhood of Colegiales, Café Crespin is a hidden gem that embodies the charm of a traditional corner cafe. Its intimate setting, adorned with vintage trinkets and bookshelves, invites you to unwind and enjoy your coffee.
Why Go: Café Crespin is renowned for its artisanal pastries and cozy ambiance. Sip on a velvety cortado or an aromatic espresso while relishing their homemade scones, cakes, or empanadas. The cafe's dedication to quality and personalized service ensures a delightful experience.
---
---
Lattente Micro Torrefactor
Lattente Micro Torrefactor, located in the trendy Palermo Hollywood neighborhood, is a specialty coffee shop that roasts its beans on-site. The sleek and modern interior creates an inviting space for coffee aficionados.
Why Go: Lattente is committed to the craft of coffee, focusing on sustainability and traceability. Immerse yourself in their coffee journey by sampling their single-origin offerings and exploring different brewing methods. The knowledgeable baristas are always eager to share their passion and guide you through the flavors of their meticulously roasted beans.
---
---
Café San Juan
Café San Juan, situated in the vibrant neighborhood of San Telmo, combines the ambiance of a traditional cafe with the flavors of Argentinean cuisine. Its rustic decor and welcoming atmosphere make it a popular choice among locals and visitors alike.
Why Go: While Café San Juan is renowned for its mouthwatering food, their coffee selection is equally impressive. Indulge in their robust espresso or café con leche while savoring the rich flavors of their famous empanadas, homemade pasta, or traditional Argentinean dishes. The combination of delightful coffee and delicious food creates a memorable dining experience.
Your journey through Buenos Aires' coffee scene will be delightful. From family-owned cafes to specialty coffee shops, each venue offers its unique charm, flavors, and ambiance. Whether you choose the iconic historical establishments or the trendy modern spaces, Buenos Aires invites you to savor the art of coffee and immerse yourself in the city's vibrant culture.
Buenos Aires' cafe culture is a testament to the city's rich heritage, where coffee becomes a delightful ritual and a window into the soul of the Argentinean people. From the grandeur of Café Tortoni to the elegance of Las Violetas, each cafe offers a unique experience that blends history, art, and the enchantment of Buenos Aires.
So, immerse yourself in the city's coffee culture, savor the flavors of traditional Argentinean pastries, and soak in the ambiance that makes these cafes true cultural landmarks. Buenos Aires invites you to slow down, indulge in a cup of coffee, and appreciate the beauty of life's simple pleasures. So, grab your cup, embrace the rich aromas, and embark on a caffeine-fueled exploration of the best cafes in Buenos Aires.
¡Disfrutá de tu café! (Enjoy your coffee!)